Merry Christmas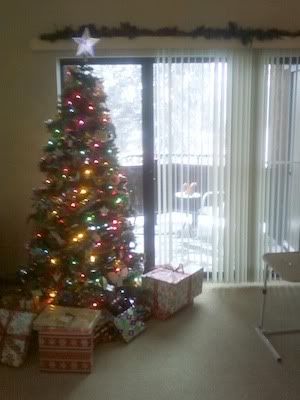 I'm sitting here in the dining room (well, dining area of the living room). It's snowing hard and the wind is blowing. My sister and brother-in-law are supposed to drive down from Omaha after he gets out of work and stay overnight at his family's place. Mom is trying to convince Jenn to stay home, but Matt is determined to come. Considering what it looks like out of my window, I think anyone who can avoid going outside is crazy.
It's a bit sad, since it's the first Christmas we might not have Jenn around. Even when she was in the college band, the team never got into bowl games that required her to leave -- sometimes she had to leave at noon on Christmas Day, but she was still there to open gifts in the morning.
Ironic, considering one reason I am running around like an idiot this holidays -- a triangle trip from Ithaca to Lincoln to Orlando and back (well, to Syracuse) -- is because I wanted to see everyone this time.
Also noticing my connections. The friends of mine from high school who don't do things like Facebook or LJ are people I have to re-connect with every time I come back. Everyone else I tend to keep up with, but I still like to see them again.